Your guide to protecting your rental property in Killeen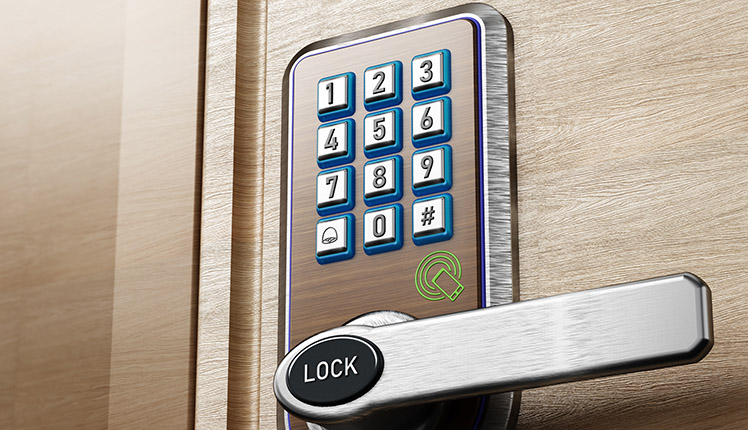 Whether you rent out a single investment property or have numerous Airbnbs, it's often a challenge to protect your rental properties in Killeen. If you have a steady influx of tenants, it's simple to lose a key at checkout or realize that you're no longer in possession of a valuable belonging. In addition, what would you do if there's a flood or fire at your rental unit while you're offsite?
From enhanced locks to fully automated security systems, here are some helpful tips on how to protect your Airbnb in Killeen.
Get rid of your keys with your Killeen smart locks
When a guest checks out, they may follow your instructions and provide the keys for the ensuing occupant. On the other hand, if they grabbed or secretly made copies of a key, they would be able to re-enter later. Needless to say, you have the option to change the locks if a key is lost, but that is not a timely or cost-effective solution.
You'll want to put in smart locks that operate in conjunction with your security system to put these concerns at ease. Then, you can provide every guest their personalized access code. When they leave, there's no need to worry with a key dropoff. Instead, simply set the temporary code to expire after they vacate the property. If past occupants come back and try their old code on the door, you will be alerted with an update of the failed attempt on your mobile device.
Smart home technology makes available rentals appear occupied at all times
The goal is that your Killeen rental property will have a steady flow of renters, but that isn't likely to always be true. Despite this fact, you always want to make it seem that guests are there so your rental isn't an easy mark for burglars. Incorporating a security system that includes home automation affords you the opportunity to benefit from smart lighting, motion detection devices, and surveillance systems that make your home seem occupied.
Start by setting your smart lighting to switch on at specified times of the night. You will also set your security smartphone app to warn you if your exterior cameras notice an intruder lurking around your perimeter or walking toward your main entrance. You then are able to use the 2-way talk feature to make them know they're being watched or program your lighting to instantly turn on when a surveillance device or motion detector discerns questionable movement.
Protect your Killeen rental property with 24/7 monitoring
Your renters can sleep easy if they feel protected against burglars, particularly when Killeen is somewhat unfamiliar. When a thief attempts to break in, your home security system will not only sound a siren but will also notify your 24-hour monitoring professionals. Even if you're not available, emergency services will be forthcoming. Your monitoring specialists are capable of acting as your point person and loop you in as soon as you're able.
Along with intrusions, your monitoring team can be linked to fire alarms, water sensors, and carbon monoxide sensors. It is likely to be upsetting for your visitor if a water heater springs a leak or a fire erupts. You will then be sent a smartphone update that an emergency has happened, but a representative is also able to coordinate emergency services while you're in transit.
Request an innovative home protection plan in Killeen
Protect your Killeen rental with a home security system. Thankfully, Vivint offers options like smart light bulbs, smart entry locks, and 24-hour monitoring. Contact us today and our home security experts will design a plan that's perfect for your Airbnb or rental property. Call (254) 351-0495 or fill out the form today!
Communities Served Around Killeen By Smart Security Specialists Your Local Vivint Authorized Dealer